WAIT…Your Order Is Not Complete!
TO AVOID MULTIPLE CHARGES, DO NOT CLOSE, PRESS 'BACK', OR RELOAD THIS PAGE
SPECIAL ONE-TIME OFFER:


BUY 1, GET 2 MORE FOR FREE!
When you buy ONE program at the regular price of $37, I'll throw in TWO extra programs of your choice, FOR FREE.
WARNING:
This is a ONE-TIME offer…
…after you leave this page, this offer will never be available again!
Click the Big Yellow Button Below
to Add This to Your Order Now!
Get 3 for the Price of 1:

Only

$37
No thanks, I will pass on this SPECIAL 3-FOR-1 DEAL… and I realize I will NEVER have this opportunity again.
What are the programs included in this SPECIAL BUY 1 GET 2 FREE DEAL?
Just below you'll find descriptions for each and every one of my programs. You can choose any of these programs for your special 3-for-1 deal.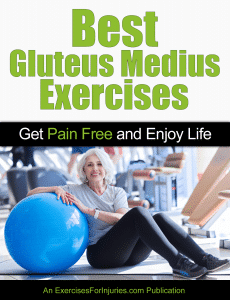 Heal Back Pain With Best Gluteus Medius Exercises
This video exercise program ELIMINATES BACK PAIN by strengthening your Gluteus Medius. The Gluteus Medius is often overlooked, but when properly exercised and strengthened, it can stabilize your pelvis and decrease stress on your back, which eliminates back pain[1].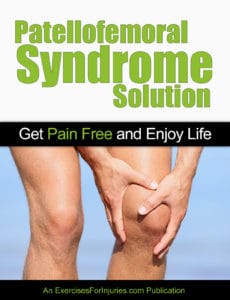 Eliminate Knee Pain (Patellofemoral Syndrome)
Patellofemoral Syndrome is a common condition that causes knee pain[2]. Most health professionals are ineffective at treating this condition, so I created this video exercise program, which is backed by scientific research and 25+ years of experience treating thousands of people with knee pain.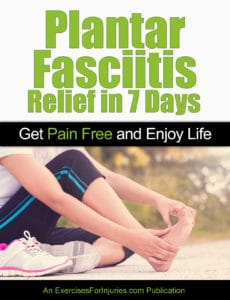 End Foot & Heel Pain (Plantar Fasciitis)
Have you tried everything to get rid of your foot and heel pain[3] (Plantar Fasciitis)? My new video exercise program ACTUALLY WORKS! Just do these simple exercises, for just a few minutes a day, and your foot and heel pain will be a thing of the past!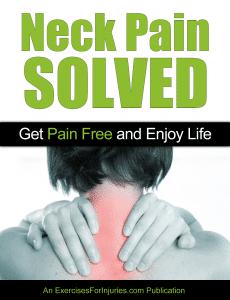 No More Neck Pain
What if you could PERMANENTLY end your neck pain, headaches and migraines[4]? This research- and science-backed video program will teach you the simple movements and proven exercises that will make that a reality for you, AND you can do it in just 9 minutes a day!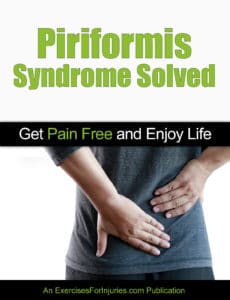 Eliminate Piriformis Syndrome
The step-by-step exercise program that ANYONE can do... that heals your Piriformis Syndrome, and allows you to take long walks again, watch entire movies without getting up, easily lift[5] your child or grandchild... ALL WITHOUT ANY PAIN!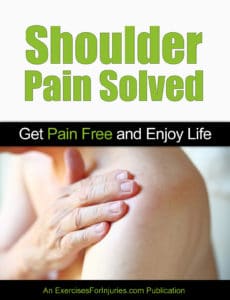 Shoulder Pain SOLVED!
This shoulder pain solution ACTUALLY WORKS, because (unlike other solutions), it is comprehensive, realistic, and based on real scientific research. In this video-based program, you're going to learn a simple set of gentle movements and exercises that you can do in just minutes every day, that is highly-effective for reducing and eliminating shoulder pain[6]!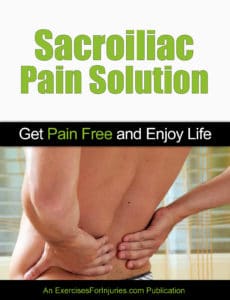 Eliminate Sacroiliac (SI) Joint Pain FAST
This simple, step-by-step guide will finally end your SI Joint Pain[7]. It's a safe and effective program that most health and fitness professionals don't know about, or are doing wrong!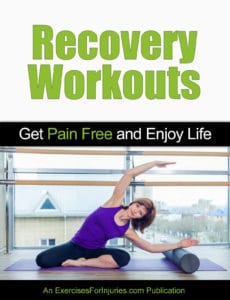 How To Speed Up Recovery Between Workouts
Do you want to get better results from your workouts? Experience fewer aches, pains and injuries between workouts[8]? Spend less time and money at the massage therapist? This comprehensive video program is going to help you achieve all that, and more!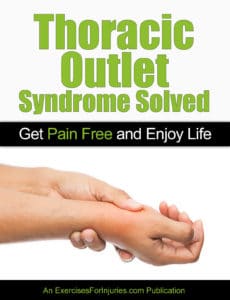 Eliminate Thoracic Outlet Syndrome
FINALLY… a simple, but effective program to overcome your Thoracic Outlet Syndrome... without expensive appointments, drugs, or surgery. My easy-to-follow, step-by-step videos and guides will help you GET PAIN-FREE[9] in as little as 7 days!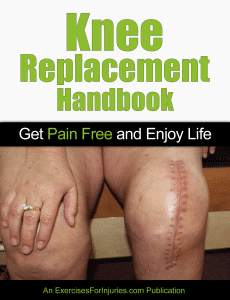 Eliminate Pain After Your Knee Replacement
Still have pain after your knee replacement surgery? This program of gentle exercises takes just a few minutes a day, and you'll be back to your active and enjoyable life[10] in just a few weeks.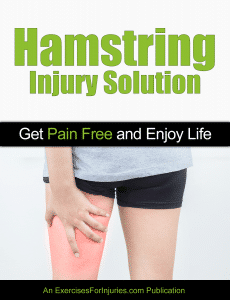 Overcome Your Hamstring Injury
Could it really be THIS EASY to overcome your Hamstring Injury... completely on your own... without expensive physical therapy, drugs or surgery? My simple, 9-step program will ERASE YOUR PAIN[11] - in as little as 7 days - and get you back to the full life you want.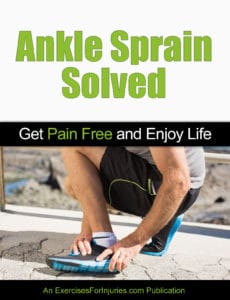 Ankle Sprain Solved
Ankle sprains are common, and mostly a minor injury. But if they aren't properly rehabilitated, they can lead to greater injuries[12]. My Ankle Sprain Solved program eliminates pain and properly heals your Ankle Sprain[13], so you can get back to an active and engaging life.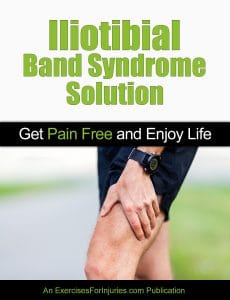 Iliotibial Band (IT Band) Syndrome Solution
IT Band Injuries are common for runners, athletes and active people[14]. This video-based exercise program helps you overcome IT Band Syndrome, eliminate the pain, and get back to your active lifestyle.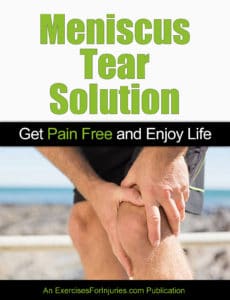 Mend Your Meniscus Tear
A Meniscus Tear is a nasty, painful injury... but my simple, step-by-step videos and guide will help you overcome it FAST, so you can get back to walking, running[15] and having the active lifestyle you want.
Fix Your Frozen Shoulder
Frozen Shoulder is a common condition, but most health and fitness professionals treat it incorrectly. My program comes with videos, guides and photos that explain this condition thoroughly, and gives you a step-by-step, 7-component, 12-week program to follow that will COMPLETELY ELIMINATE your Frozen Shoulder[16].
Shin Splints Solved
Most of the advice out there for treating Shin Splints just doesn't work. My Shin Splints Solved program is based on research and scientific studies[17], and is therefore HIGHLY-EFFECTIVE at eliminating Shin Splints and shin pain. You WILL be running again - without pain - before you know it!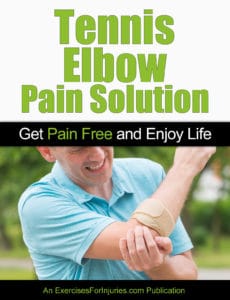 Eliminate Tennis Elbow
My simple, 6-step video program is PROVEN to eliminate Tennis Elbow. Before you know it, you'll once again be able to move your arms freely, pick up your kids, and grab and lift objects, all WITHOUT PAIN[18].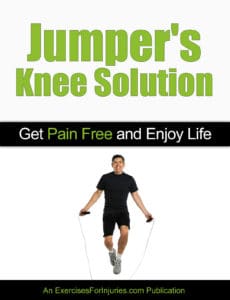 Jumper's Knee Solution
Do your knees hurt when you run or jump, especially while playing sports like basketball or volleyball? My Jumper's Knee Solution program is for you! It's a video-based exercise program that will get you back to your sports[19] in as little as 7 days.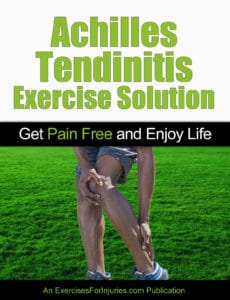 Eliminate Calf Pain (Achilles Tendinitis and Tendinosis)
This research-backed video exercise program[20] heals calf pain, and Achilles Tendinitis and Tendinosis. Simple, step-by-step videos take you through a specially-designed program of gentle exercises that will eliminate your pain ONCE AND FOR ALL. You'll be back to hiking, walking and running before you know it.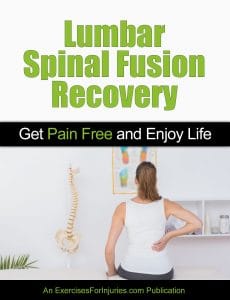 Lumbar Spinal Fusion Recovery Program
Are you recovering from a Lumbar Spinal Fusion? I developed a special video-based exercise program for this exact situation. Video, audio and written materials give you a HIGHLY-EFFECTIVE course of treatment[21] to get you recovered QUICKLY!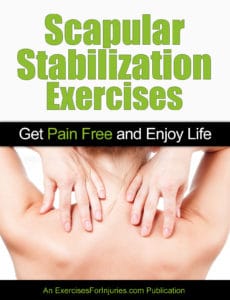 Scapular Stabilization Secrets
This RESEARCH- and SCIENCE-BACKED[22] video exercise program will help you reduce and eliminate pain, improve range of motion, and increase shoulder stability.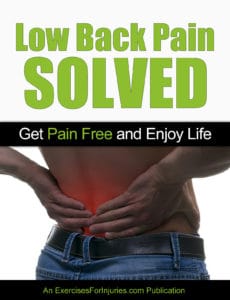 Low Back Pain SOLVED!
Do you get Low Back Pain flare ups, spasms and episodes? In this breakthrough video exercise program, you're going to discover what REALLY causes low back pain and then learn a gentle sequence of stretches and movements[23] that can reduce and eliminate your low back pain for good, all in just 11 minutes a day.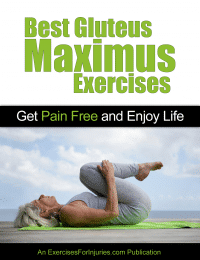 Eliminate Back, Hip and Knee Pain With Gluteus Maximus Exercises
This is a fast, simple, safe, and effective video-based exercise program for healing and strengthening your Gluteus Maximus[24]… which can reduce and eliminate your back, hip and knee pain. In as little as 7 days, you can go back to pain-free walking, running and living!
Heal STUBBORN Rotator Cuff Injuries & Shoulder Pain FAST!
Rotator cuff injuries are TOUGH to heal and recover from! In this comprehensive video exercise program, you'll learn a highly-effective, but safe and gentle 13-minute exercise routine that has ONLY THE RIGHT EXERCISES... and you will learn to do them THE RIGHT WAY... so you can heal your rotator cuff and shoulder pain[25], once and for all, and get back to doing all the things you need (and want) to do on a daily basis!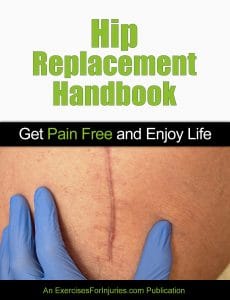 Hip Replacement Surgery: Eliminate Pain And Get Back To Your Life SOONER!
Have you had hip replacement surgery? Or are you planning to? Exercise is a major contributor to a full and fast recovery from hip replacement surgery[26]... but the UGLY TRUTH is: The exercise programs prescribed to hip replacement patients are usually outdated, provide very little real guidance or instruction, and are FRIGHTENINGLY INEFFECTIVE! Don't worry—help is here. This exercise program is DIFFERENT. It is TRULY safe and gentle. It's highly-effective, and can help you RECOVER FASTER, and get back to your normal, active life, FASTER. It's easy-to-learn, and easy-to-do. Best of all, it only takes 7 minutes (or less) to do the entire routine!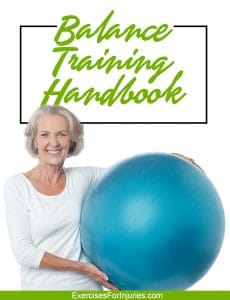 Regain Your Balance And Your CONFIDENCE With Balance Training Handbook
This simple, easy, gentle 8-minute exercise routine will help you: improve your balance, prevent falls[27], protect you from the "bad balance negative downward health spiral," replace your fears of falling and physical activity with confidence, strengthen your legs, stabilize and strengthen your core, get back to doing the things you love in life, get back to doing the day-to-day things you NEED to do, and doing them YOURSELF, so you don't have to depend on or burden other people!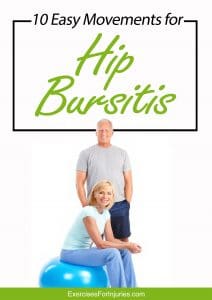 10 Easy Movements For Hip Bursitis
Do you have Hip Bursitis? The sharp, persistent pains near your hip, around your outer thigh, extending down to your knee? The 10 easy movements you'll learn in this quick video exercise program can reduce your hip bursitis pain[28] FAST! In as little as 7 days, you can get back to pain-free walking, sleeping, and living!
"How Do I Get My 3-For-1 Deal?"
Wondering where you will choose your programs? We've got you covered.
You will receive an email to the email address you used in placing your order within about 15 minutes with a link to another web page.
On that web page, you will receive easy instructions to select your 3 programs, and email your choices to the support team.
Please email to [email protected], or call 1-888-291-2430 (toll free in the USA and Canada), or send SMS to 1-888-229-4992. We will get back to you within 1 business day.
You will receive digital access instructions in your email inbox, so you don't have to wait for anything in the mail. These instructions will show you how to view the 3 programs you selected.
Frequently Asked Questions
"Where are my DVDs?"
This product is 100% digital. You will receive easy-to-follow instructions via email for accessing your 3 programs.
"Is there a guarantee?"
Absolutely. All my products come with a 60-day 100% money-back guarantee. That means if you don't like even one of the programs, you can contact my team within 60 days of purchasing and we'll promptly return every penny you spent. No hard feelings, either.
"I'm a health and fitness professional...will this help me serve my clients?
I'm proud to say a large percentage of my customers are health and fitness pros, looking for an edge in a hyper-competitive industry.
Trainers like Mike Schwartz, high-performance health coach from Calgary, remarks:
"Rick goes into great detail on "why" the stuff works and not just "what" you need to do… that makes a huge difference to a guy like me – competitive athlete, health coach and trainer myself – I need to know why, so I can understand the science behind it."
WARNING:
This will be your ONLY CHANCE TO GET THIS SPECIAL 3-FOR-1 DEAL…
…after you leave this page, this offer will never be available again!
Click the Big Yellow Button Below
to Add This to Your Order Now!
Get 3 for the Price of 1:

Only

$37
No thanks, I will pass on this SPECIAL BUY 1, GET 2 FREE DEAL for now… and I realize I will NEVER have this opportunity again.
ClickBank is the retailer of products on this site. CLICKBANK® is a registered trademark of Click Sales Inc., a Delaware corporation located at 1444 S. Entertainment Ave., Suite 410 Boise, ID 83709, USA and used by permission. ClickBank's role as retailer does not constitute an endorsement, approval or review of these products or any claim, statement or opinion used in promotion of these products.
Resources
+
Dubey L, Karthikbabu S, Mohan D. Effects of Pelvic Stability Training on Movement Control, Hip Muscles Strength, Walking Speed and Daily Activities after Stroke: A Randomized Controlled Trial. Ann Neurosci. 2018;25(2):80‐89. doi:10.1159/000486273Kameda M, Tanimae H, Kihara A, Matsumoto F. Does low back pain or leg pain in gluteus medius syndrome contribute to lumbar degenerative disease and hip osteoarthritis and vice versa? A literature review. J Phys Ther Sci. 2020;32(2):173‐191. doi:10.1589/jpts.32.173
Petersen W, Ellermann A, Gösele-Koppenburg A, et al. Patellofemoral pain syndrome. Knee Surg Sports Traumatol Arthrosc. 2014;22(10):2264‐2274. doi:10.1007/s00167-013-2759-6
Landorf KB. Plantar heel pain and plantar fasciitis. BMJ Clin Evid. 2015;2015:1111. Published 2015 Nov 25.
Ylinen J, Nikander R, Nykänen M, Kautiainen H, Häkkinen A. Effect of neck exercises on cervicogenic headache: a randomized controlled trial. J Rehabil Med. 2010;42(4):344‐349. doi:10.2340/16501977-0527
Moon HB, Nam KY, Kwon BS, et al. Leg Weakness Caused by Bilateral Piriformis Syndrome: A Case Report. Ann Rehabil Med. 2015;39(6):1042‐1046. doi:10.5535/arm.2015.39.6.1042Keskula DR, Tamburello M. Conservative management of piriformis syndrome. J Athl Train. 1992;27(2):102‐110.
Painful Shoulder: Exercise Can Reduce Pain and Improve Mobility and Function. J Orthop Sports Phys Ther. 2020;50(3):142. doi:10.2519/jospt.2020.0501
Yoo WG. Effects of individual strengthening exercises for the stabilization muscles on the nutation torque of the sacroiliac joint in a sedentary worker with nonspecific sacroiliac joint pain. J Phys Ther Sci. 2015;27(1):313‐314. doi:10.1589/jpts.27.313
Apostolopoulos NC, Lahart IM, Plyley MJ, et al. The effects of different passive static stretching intensities on recovery from unaccustomed eccentric exercise - a randomized controlled trial. Appl Physiol Nutr Metab. 2018;43(8):806‐815. doi:10.1139/apnm-2017-0841
Levine NA, Rigby BR. Thoracic Outlet Syndrome: Biomechanical and Exercise Considerations. Healthcare (Basel). 2018;6(2):68. Published 2018 Jun 19. doi:10.3390/healthcare6020068
Pozzi F, Snyder-Mackler L, Zeni J. Physical exercise after knee arthroplasty: a systematic review of controlled trials. Eur J Phys Rehabil Med. 2013;49(6):877‐892.
Schmitt B, Tim T, McHugh M. Hamstring injury rehabilitation and prevention of reinjury using lengthened state eccentric training: a new concept. Int J Sports Phys Ther. 2012;7(3):333‐341.
de Bie RA, de Vet HC, van den Wildenberg FA, Lenssen T, Knipschild PG. The prognosis of ankle sprains. Int J Sports Med. 1997;18(4):285‐289. doi:10.1055/s-2007-972635
van Rijn RM, van Os AG, Kleinrensink GJ, et al. Supervised exercises for adults with acute lateral ankle sprain: a randomised controlled trial. Br J Gen Pract. 2007;57(543):793‐800.
Beals C, Flanigan D. A Review of Treatments for Iliotibial Band Syndrome in the Athletic Population. J Sports Med (Hindawi Publ Corp). 2013;2013:367169. doi:10.1155/2013/367169
Frizziero A, Ferrari R, Giannotti E, Ferroni C, Poli P, Masiero S. The meniscus tear. State of the art of rehabilitation protocols related to surgical procedures. Muscles Ligaments Tendons J. 2013;2(4):295‐301. Published 2013 Jan 21.
Chan HBY, Pua PY, How CH. Physical therapy in the management of frozen shoulder. Singapore Med J. 2017;58(12):685‐689. doi:10.11622/smedj.2017107
Schulze C, Finze S, Bader R, Lison A. Treatment of medial tibial stress syndrome according to the fascial distortion model: a prospective case control study. ScientificWorldJournal. 2014;2014:790626. doi:10.1155/2014/790626
Finestone HM, Rabinovitch DL. Tennis elbow no more: practical eccentric and concentric exercises to heal the pain. Can Fam Physician. 2008;54(8):1115‐1116.Stasinopoulos D, Stasinopoulou K, Johnson MI. An exercise programme for the management of lateral elbow tendinopathy. Br J Sports Med. 2005;39(12):944‐947. doi:10.1136/bjsm.2005.019836
Rutland M, O'Connell D, Brismée JM, Sizer P, Apte G, O'Connell J. Evidence-supported rehabilitation of patellar tendinopathy. N Am J Sports Phys Ther. 2010;5(3):166‐178.
O'Neill S, Watson PJ, Barry S. WHY ARE ECCENTRIC EXERCISES EFFECTIVE FOR ACHILLES TENDINOPATHY?. Int J Sports Phys Ther. 2015;10(4):552‐562.
Low M, Burgess LC, Wainwright TW. A Critical Analysis of the Exercise Prescription and Return to Activity Advice That Is Provided in Patient Information Leaflets Following Lumbar Spine Surgery. Medicina (Kaunas). 2019;55(7):347. Published 2019 Jul 7. doi:10.3390/medicina55070347
Im B, Kim Y, Chung Y, Hwang S. Effects of scapular stabilization exercise on neck posture and muscle activation in individuals with neck pain and forward head posture. J Phys Ther Sci. 2016;28(3):951‐955. doi:10.1589/jpts.28.951
Dreisinger TE. Exercise in the management of chronic back pain. Ochsner J. 2014;14(1):101‐107.
Jeong UC, Sim JH, Kim CY, Hwang-Bo G, Nam CW. The effects of gluteus muscle strengthening exercise and lumbar stabilization exercise on lumbar muscle strength and balance in chronic low back pain patients. J Phys Ther Sci. 2015;27(12):3813‐3816. doi:10.1589/jpts.27.3813Kirmizigil B, Ozcaldiran B, Colakoglu M. Effects of three different stretching techniques on vertical jumping performance. J Strength Cond Res. 2014;28(5):1263‐1271. doi:10.1519/JSC.0000000000000268
Ludewig PM, Borstad JD. Effects of a home exercise programme on shoulder pain and functional status in construction workers. Occup Environ Med. 2003;60(11):841‐849. doi:10.1136/oem.60.11.841Ginn KA, Cohen ML. Exercise therapy for shoulder pain aimed at restoring neuromuscular control: a randomized comparative clinical trial. J Rehabil Med. 2005;37(2):115‐122. doi:10.1080/16501970410023443
Pozzi F, Madara K, Zeni JA Jr. A SIX-WEEK SUPERVISED EXERCISE AND EDUCATIONAL INTERVENTION AFTER TOTAL HIP ARTHROPLASTY: A CASE SERIES. Int J Sports Phys Ther. 2017;12(2):259‐272.Minns Lowe CJ, Barker KL, Dewey ME, Sackley CM. Effectiveness of physiotherapy exercise following hip arthroplasty for osteoarthritis: a systematic review of clinical trials. BMC Musculoskelet Disord. 2009;10:98. Published 2009 Aug 4. doi:10.1186/1471-2474-10-98
Wolfson L, Whipple R, Judge J, Amerman P, Derby C, King M. Training balance and strength in the elderly to improve function. J Am Geriatr Soc. 1993;41(3):341‐343. doi:10.1111/j.1532-5415.1993.tb06716.xLee IH, Park SY. Balance improvement by strength training for the elderly. J Phys Ther Sci. 2013;25(12):1591‐1593. doi:10.1589/jpts.25.1591
Howell ER. Rehabilitation and treatment of a recreational golfer with hip osteoarthritis: a case report. J Can Chiropr Assoc. 2012;56(3):201‐208.Tyler TF, Nicholas SJ. Rehabilitation of extra-articular sources of hip pain in athletes. N Am J Sports Phys Ther. 2007;2(4):207‐216.